OpRegen®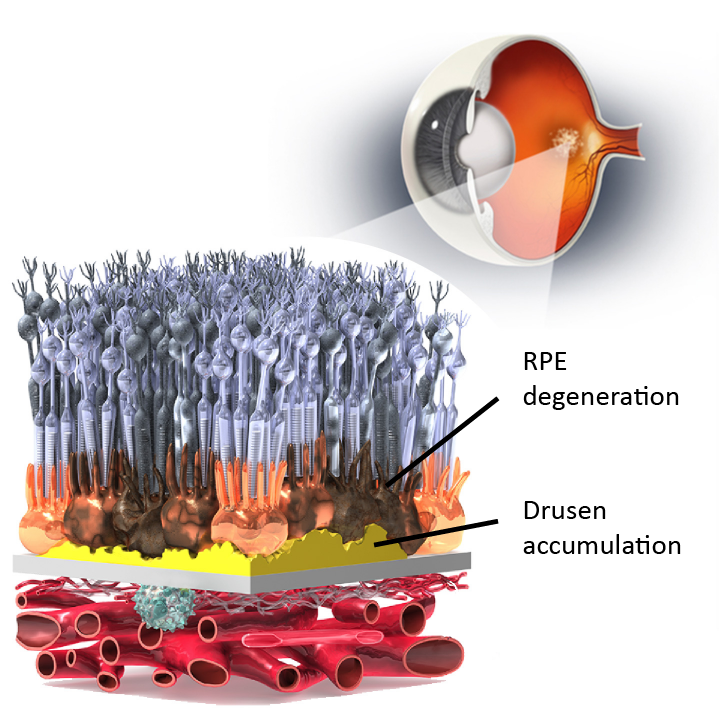 OpRegen® is a retinal pigment epithelium cell replacement therapy that is currently in a Phase 1/2a, multicenter clinical trial for the treatment of Dry Age-Related Macular Degeneration (Dry AMD) with geographic atrophy. Age-related macular degeneration, also known as "AMD", is a common eye disorder causing impaired central vision in which loss of retinal pigment endothelium (RPE) cells impairs drusen clearance and facilitates macular degeneration. Using a proprietary directed differentiation method, OpRegen® is a formulation of animal-free RPE cells with high yield and purity that can be transplanted directly into the patient's eye, where the patient's own RPE cells are missing or dysfunctional.
The potential benefits of replacing RPE cells include:
RPE organization
Drusen reduction
Photoreceptor recovery
Preserved or improved sight
The FDA has granted OpRegen with Fast Track Designations and, as such, is on an expedited regulatory path that includes the ability for increased interfacing with the FDA during clinical development and enhanced favorability for marketing approval.
Market Opportunity
AMD affects more than 30 million people worldwide and approximately 1.6 million people are newly diagnosed annually in the U.S.1 It is a leading cause of vision loss in people over the age of 60 in the developed world. There are two forms of AMD: "wet AMD," which affects only 10% of patients and "dry AMD," which affects 90% of patients.2 Currently, there are only two FDA-approved therapies for the less common wet AMD, yet they constitute an estimated market of more than $10 billion.3
There are no FDA approved medical therapies for the 90 percent of AMD patients who suffer from the dry form. We believe one of the most promising future therapies for dry AMD is the replacement of the layer of damaged RPE cells that support and nourish the retina.
Sources: (1) Pennington and DeAngelis, Eye and Vision, 2016  3:34; (2) JM Seddon, Epidemiology of age-related macular degeneration. (AP Schachat, S Ryan eds.) Retina, 3rd ed. St. Louis, MO: Mosby; 2001;1039-50 and (3) 2018 product sales summary based on publicly reported revenue figures for Lucentis and Eylea.
Clinical Data
OpRegen® is currently being tested in a Phase 1/2a clinical trial for the treatment of dry AMD with GA. OpRegen® is a cell-based product composed of retinal pigment epithelial (RPE) cells, derived from human embryonic stem cells (hESC) and administered as a cell suspension in ophthalmic Balanced Salt Solution Plus (BSS Plus).
Phase 1/2a Clinical Study Highlights from the 2020 Association For Research In Vision and Ophthalmology Annual Meeting:
Significant update builds on prior reports of gains in visual acuity and provides a more comprehensive picture of treatment with OpRegen for dry-AMD
Better visual acuity, reduced geographic atrophy (GA) progression and improved reading speed reported in first Cohort4 and first Orbit SDS patients
Visit Lineage's Media page to watch the presentation on Phase 1/2a Clinical Trial Interim Results by Christopher D. Riemann, M.D., Cincinnati Eye Institute (CEI)
About the Phase 1/2a Clinical Study
This is a Phase 1/2a open-label, dose escalation safety and efficacy study of a single injection of human retinal pigment epithelium cells derived from an established pluripotent cell line and transplanted subretinally in patients with advanced dry AMD with geographic atrophy. The study will enroll approximately 24 patients, divided into 4 cohorts. The first 3 cohorts consisted solely of legally blind patients, with best corrected visual acuity (BCVA) of 20/200 or worse. The fourth cohort will include approximately 12 patients with vision ranging from 20/250 to as high as 20/64. Cohort 4 also includes patients treated with one of two formulations of OpRegen; the first 3 patients were treated with a formulation which required plating and preparation of cells one day prior to use. The remaining patients on Cohort 4 will be treated with an "off-the-shelf" or "thaw-and-inject" formulation of OpRegen which can be shipped directly to sites and used immediately upon thawing, which removes the complications and logistics of having to use a dose preparation facility. Until February 2020, staggered intervals within and between cohorts were applied to ensure patient safety and welfare. The primary objective of the Phase 1/2a study is to evaluate the safety and tolerability of OpRegen as assessed by the incidence and frequency of treatment emergent adverse events. Secondary objectives are to evaluate the preliminary efficacy of OpRegen treatment by assessing the changes in ophthalmological parameters measured by various methods of primary clinical relevance. Additionally, for the patients in Cohort 4 that receive subretinal delivery of OpRegen utilizing Gyroscope Therapeutics' Orbit Subretinal Delivery System (Orbit SDS), objectives will include the evaluation of the safety of delivery of OpRegen using the Orbit SDS.
Subretinal Delivery Partnership
In January 2019, Lineage entered into an exclusive partnership with Gyroscope Therapeutics (formerly Orbit Biomedical, Ltd.) to assess their approved Subretinal Delivery System, a vitrectomy-free delivery device for administration of OpRegen® within the ongoing Phase I/IIa clinical trial.
Many of the adverse effects that are observed in subretinal procedures are related to the delivery technique utilized during the surgery. The Gyroscope Subretinal Delivery System allows for access to the subretinal space via a suprachroidal approach without creating a hole in the retina and compromising its structural integrity. We believe that the use of this device could dramatically decrease the number of adverse effects as well as significantly improve dose control of cells in our clinical trials.
Lineage dosed its first patient with the Gyroscope Subretinal Delivery System in July 2019.
OpRegen is comprised of specialized retina cells which were derived from a cell line that is listed on the National Institutes of Health (NIH) Registry and are eligible for use in NIH funded research.