VAC2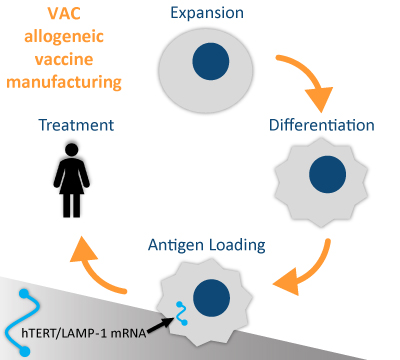 VAC2 is an allogeneic, or non-patient specific, cancer vaccine candidate designed to stimulate patient immune responses to telomerase which is commonly expressed in cancerous cells but not in normal adult cells.  VAC2, which is produced from our pluripotent cell technology using a directed differentiation method, is comprised of a population of mature dendritic cells. As the most potent type of antigen presenting cell in the body, dendritic cells instruct our body's immune system to attack and eliminate harmful pathogens and unwanted cells. To target cancerous cells, VAC2 is engineered to express the tumor-selective antigen telomerase, which is found in over 85% of all cancers. Because the tumor antigen is loaded exogenously into the dendritic cells prior to administration, VAC2 is a platform technology that can be modified to carry any antigen, including patient-specific tumor neo-antigens.
Market Opportunity
Cancer, which afflicts millions worldwide, is one the largest unmet clinical needs with current treatment options providing limited efficacy and a wide range of debilitating side effects. The use of pluripotent cells as the starting material for VAC2 production adds several additional advantages to this candidate therapeutic. In comparison to technologies that rely on the use of a patient's own blood, our pluripotent cell technology provides a scalable system for production of a large number of vaccine doses in a single lot, lower manufacturing costs, greater product consistency, and off-the-shelf availability to provide broader access to patients. In addition, we believe that as an allogeneic therapy, VAC2 has the potential to stimulate a more robust immune response through an adjuvant effect resulting from the partial immune mismatch between the VAC2 cells and patients receiving the therapy.
Potential Advantages of the VAC2 Approach
Single master cell bank for scalability and consistency
Available 'off-the-shelf', on demand
No known significant off-target effects
Low AE-related cost of treatment
Lower anticipated COGS than CAR-T
In combination with chemotherapy
In combination with immune checkpoint inhibitors
VAC2 was designed to overcome limitations of first-generation I-O combinations and autologous approaches, while providing cost and safety advantages in combination or competition with CAR-T, CTL4, or ICIs.
Development Status
Clinical development of VAC2 is being conducted through a partnership with Cancer Research UK (CRUK), who is responsible for costs and to conduct manufacturing and the clinical trial.  Currently, enrollment is ongoing in a Phase 1 study of VAC2 in advanced and resected non-small cell lung cancer (NSCLS). The primary endpoint of this study is safety and tolerability of 6 intradermal injections. In May 2020, Lineage announced the early exercise of its option with Cancer Research UK for this immune-oncology cell therapy program as well as a platform expansion to include coronavirus vaccine development.